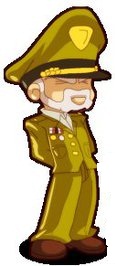 Username: TerroristKing
Wrestler's Ring Name: : TerroristKing
Height: 6'2''
Weight: 237 lbs
Face or Heel?: Heel
Finishing Moves:
TerroristKing looks his opponent square in the eyes
and bites him by his ear, not letting go executing
Terro-rization
TerroristKing lifts his opponent sideways on his shoulders
and stretches him beyond the laws of physics executing
Torturrization
TerroristKing headbutts his opponent in the abdomen
the throws his opponent high into the air using his head executing
Terro-blaster
Treadmark Moves:
Terro-mutilation (Mod Mandible Claw)
Terro Lock (Mod Ankle Lock)
Terrorist Bomb DDT (Mod Inverted DDT)
Taunt:
TerroristKing dances like a madman in the middle of the ring executing a
Terrorist Dance
Entrance:
The lights go out in the arena. The sound of a big bomb is heard.The lights go back on. TerroristKing appears on the titantron saying: "Boom!!!Boom!!!Boom!!!, my favorite words".

The music then hits sang by TerroristKing himself entitled "Greatness has arrived".
Biography:
TerroristKing was not always the evil, diabolical man that he is today. Abandoned by his parents at age 5, along with his 3 year old brother, TerroristKing was obligated to become a man sooner than most people. He spent the earlier years of his life protecting his brother, living from foster home to foster home. At age 16 he tricked a wealthy business man into adopting himself and his little brother. Soon afterwords, TerroristKing earned the respect of his new father, leading to his adoptive parent to leave his whole business empire to TerroristKing. Everything went well for the 2 brothers until TK's little bro was diagnosed with leukemia and died soon afterwords, at age 25. Now 27, TerroristKing started to slowly lose his mind, and disappeared soon after that. Legends say he lived for about 5 years in Tibet, being trained by the local monks in the arts of self-control. He has emerged in the world of pro wrestling as a new man. Calm, calculated, with a desire for total control.... there is no way to know what can stop this man.
Catchphrase: Greatness has spoken.... what's it gonna be? (/and so it will be!)